Rasa Coffee Alternative VB
Get you a coffee alternative that does it all…
Naturally caffeine-free herbal coffee alternative, for when you need extra strength against stress. Herbalist-formulated to combine the best of Ayurvedic, Chinese, & Western herbalism to create a nourishing coffee alternative that holistically supports your health and energy.
Packed full of adaptogens: superherbs that help you be less of a stress-case and provide vital calm energy all day.
What does it taste like? We say: dark, rich, & robust. Earthy, a little nutty, slightly sweet with a hint of cinnamon. A little bitter, like coffee, and has a depth of mouthfeel like coffee.
Stacy from NJ says: "Earthy. Comforting. Like the beverage equivalent of wearing your favorite sweatshirt right out of the dryer. It does not taste like coffee, and it does not taste like tea, so when you are ready to enjoy it, get those things out of your head and just enjoy something new."
Like coffee, most people prefer Rasa with something creamy. Delish hot or cold, Bulletproofed, or brewed with coffee.
SATISFACTION GUARANTEE: We think you're going to love Rasa. But if you don't? Send it back for 100% of your money back. All you have to do is ask nicely.
1. French Press: 10-15+ minute brew time. Most presses keep it plenty hot, but if you enjoy extra-hot beverages, you can cover your French press with a dish towel to keep the heat in.

2. Percolator: All percolators are different, but generally they'll switch to the warming setting when brewing's done! Great for piping hot Rasa.

3. Moka Pot: (aka stovetop espresso/Cuban coffee): Use 1 tbsp per shot/latte (don't pack the bottom full!) Great for piping hot Rasa.

4. Espresso Machine: Put 1 tbsp Rasa in portafilter, do not tamp, & pull a double-double. Yes, two double shots! All machines are a bit different—you may need to experiment to find the best way for your machine.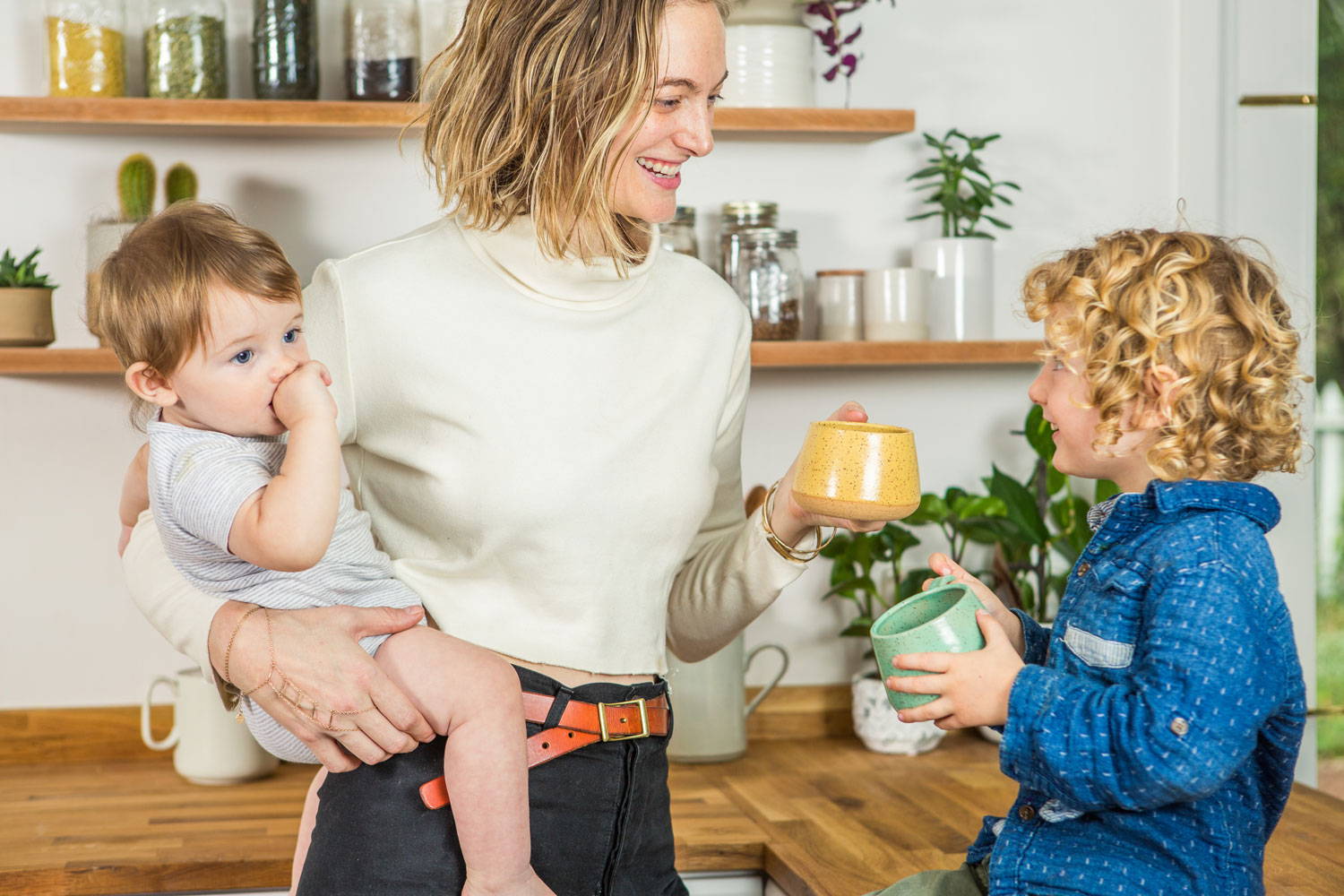 After my first son was born, I found myself looking for a better way to energize myself than coffee. But the coffee alternatives on the market, quite frankly, sucked. I wanted something that:

✔️ Gives Energy
✔️ Tons of Health Benefits
✔️ Is Delicious!
✔️ Gluten & Grain Free
✔️ No artificial or 'natural' flavors
✔️ No sweeteners of any kind

It didn't exist, so I partnered with an herbalist to create Rasa, a line of coffee alternatives that help you access the full spectrum of your energy potential.

What started with me elbow-deep blending herbs in my kitchen has turned into a daily ritual that has changed the lives of thousands of people.

💛, Lopa
Original & Cacao can be brewed not once, but twice! Just add a little fresh dry Rasa and brew longer for the 2nd round, and boom, more bang for your buck (& more sustainability, too!)
Adaptogens & Your Stress Response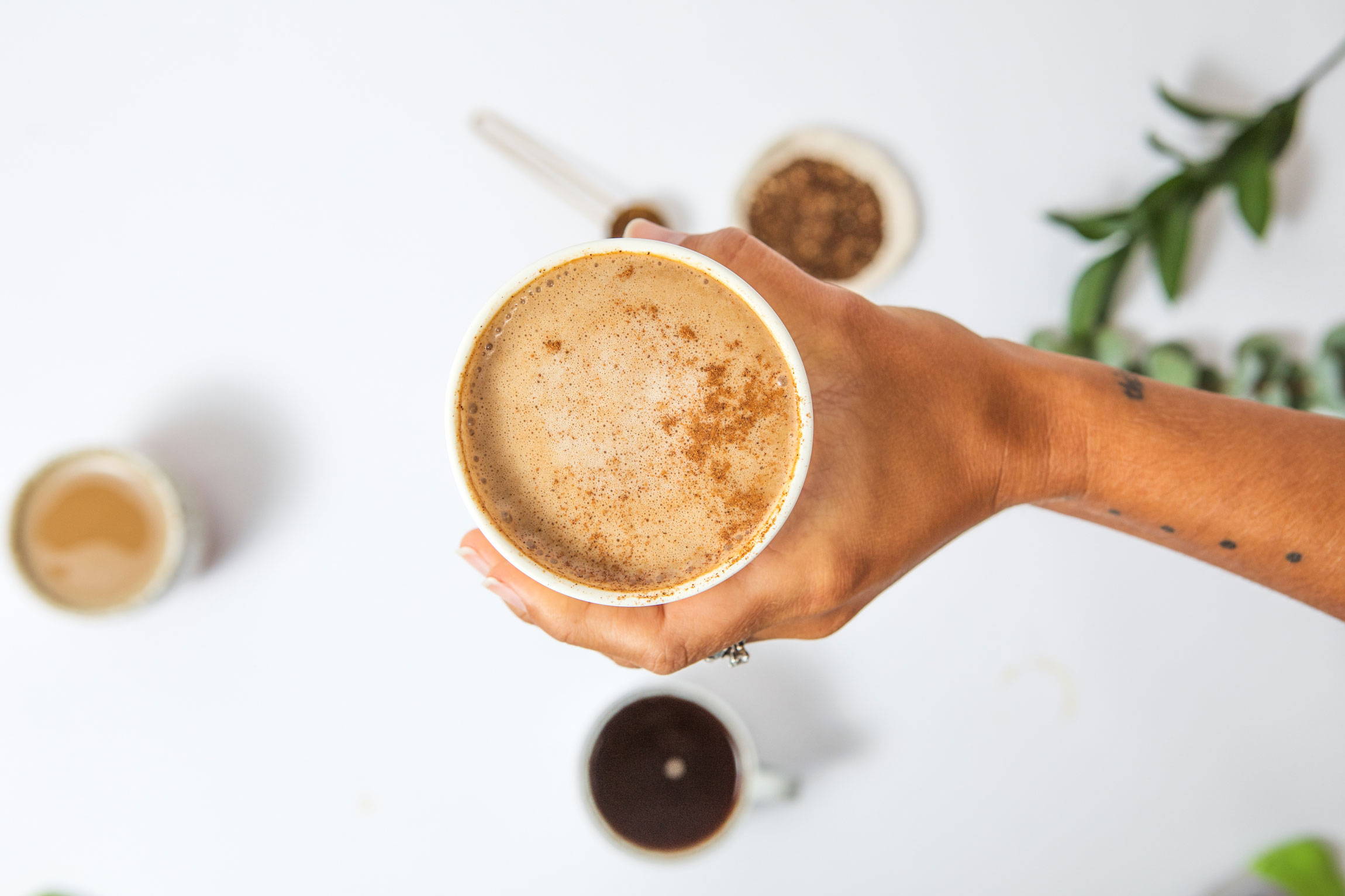 Your body has two main stress-response systems that it uses to tell your adrenals to do their freak-out-to-stress-thing:

• HPA: the hypothalamic pituitary adrenal axis—the endocrine system pathway

• SAS: the sympathoadrenal system—the nervous system pathway

Adaptogens actually mimic stress in the body. They are a eustressor.

Eustress means beneficial stress—either psychological, physical (e.g. exercise), or biochemical. The term was coined by endocrinologist Hans Selye, consisting of the Greek prefix eu- meaning "good", and stress, literally meaning "good stress".

Adaptogens tone and strengthen both your HPA and your SAS so that over time—just like with lifting weights—you're able to handle more stress with more ease. You take longer to freak out, and come back to balance (aka your best self) more quickly.

All the Rasa blends were meticulously formulated by a clinical herbalist with the most comprehensive and sustainable blends of these prized herbs available on the market today. (#notsohumblebrag)
Our products are based on our signature 12-herb formula: featuring 7 adaptogens, 2 mushrooms and 3 herbs for detoxification & digestion.
12 sustainable organic herbs, meticulously formulated to nourish and uplift.
Original blend + Fair Trade coffee from women-owned farms = coffee with a hug for your nervous system.
Our signature adaptogenic formula blended with fair-trade cacao beans for a mood-boosting treat.
17 herbs. 7 extracts. Clinically-studied effective doses for performance, cognition and flow.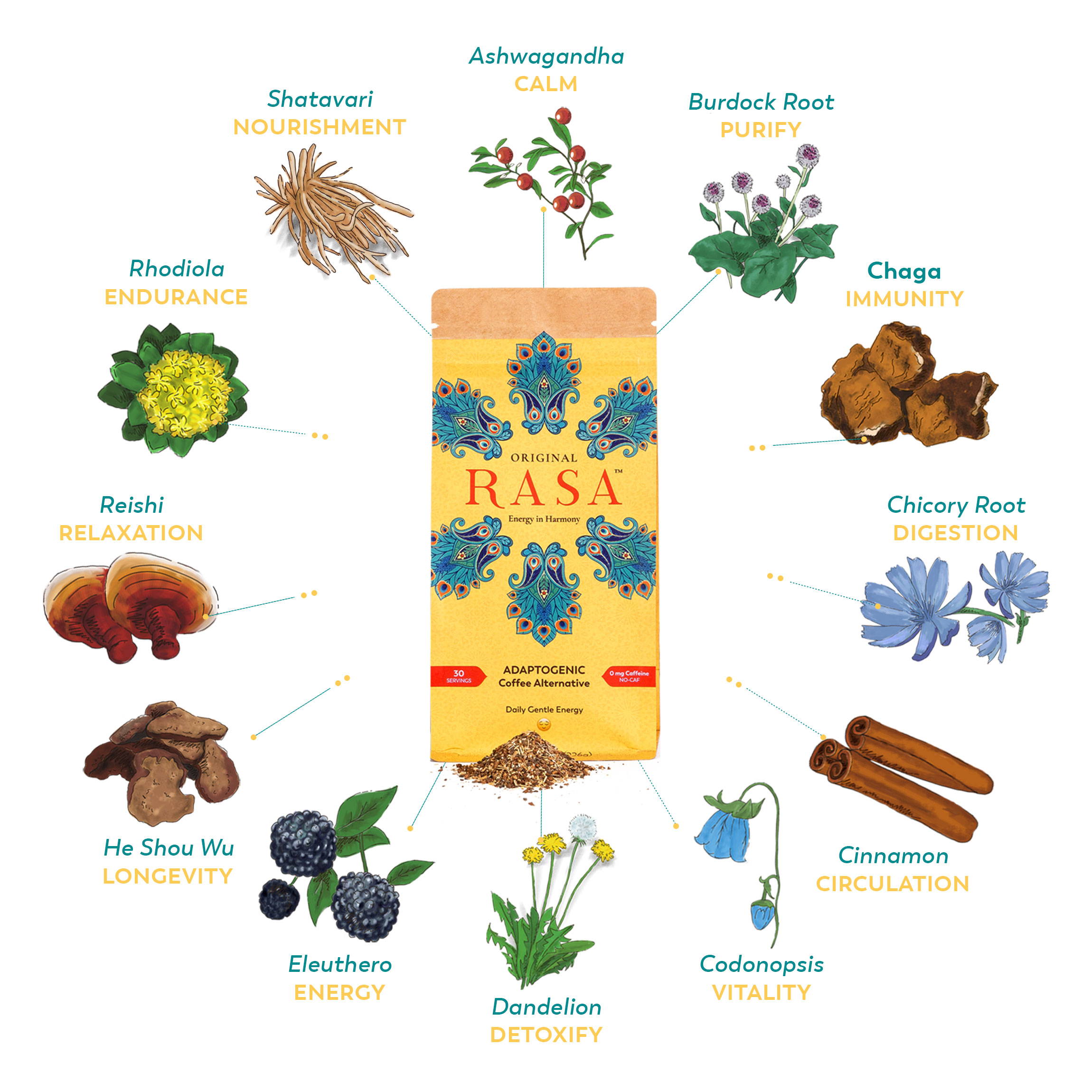 We've got a special offer just for wonderful, kind, and very good-looking people like yourself.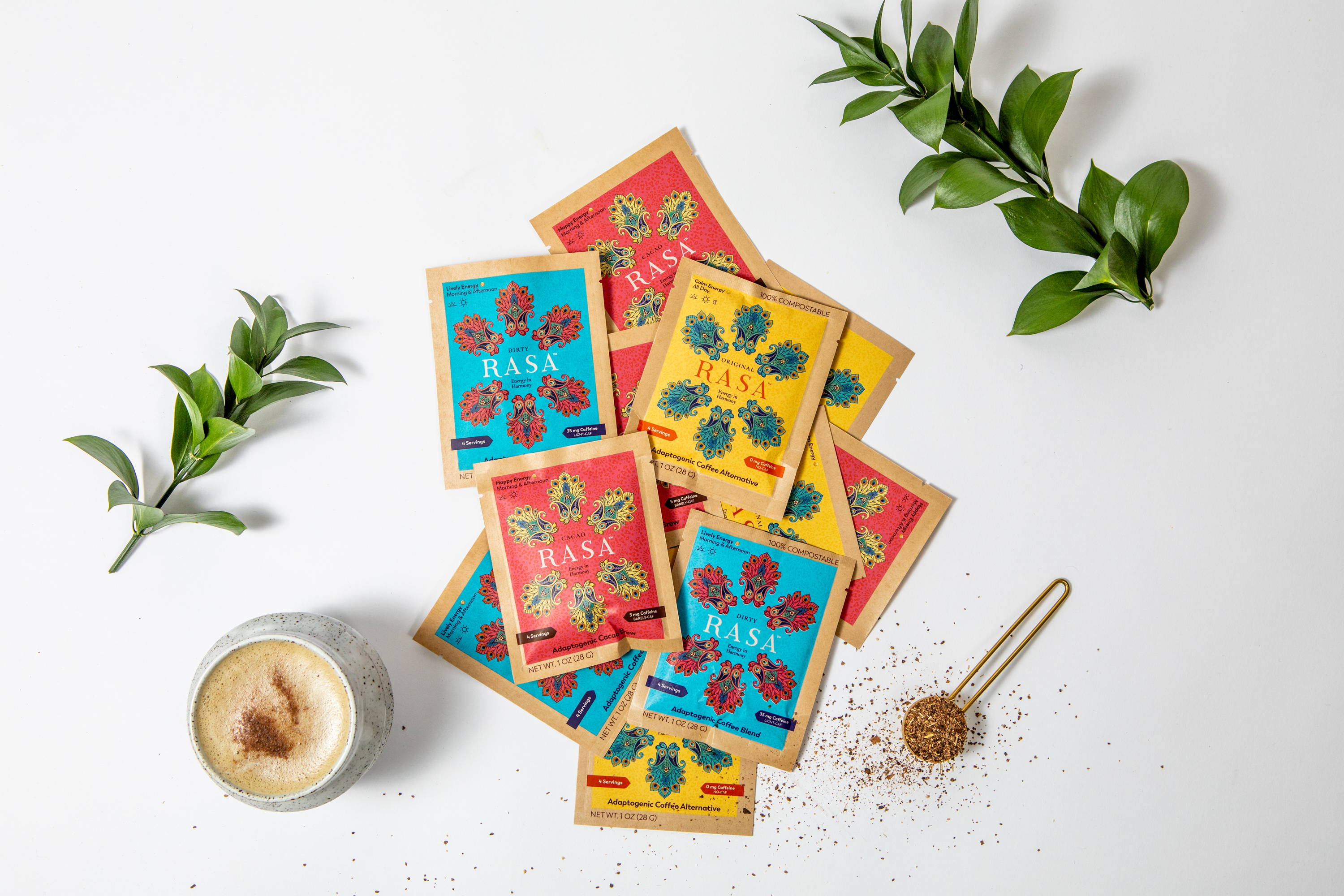 "I am really enjoying Rasa Original. It is turning out to be the answer I was looking for regards slowly reducing my coffee intake with something that has all the flavor of coffee, as going cold turkey did not prove to work well for me. Plus the advantage of these being beneficial herbs which after about a month or so of using Rasa I can say are starting to have a balancing affect on my body. I am appreciating very much! I also enjoy their quirky humor and strongly appreciate their attention to detail like waste consciousness."
Jennifer R.
"Rasa is indeed life changing! Had my first cup yesterday. Wow! To be the center in midst of chaos, with a delicious brew. Thank you!! Many blessings on your continued journey. 💙💙💙"
Linda L.
"Big time coffee addicts: you gotta try Rasa "BOLD" no caffeine at all...but WOW it does the trick. A pot of that totally satiates my old 3-6 cups of coffee a day addictive personality."
Sky K.
"I'm nearing 2 years postpartum and have had a rollercoaster journey with postpartum anxiety and depression. I can always tell when I haven't had my Rasa yet for the day because, not only am I tired, I'm more emotionally unpredictable. Rasa helps stabilize me so I can love on my kids and function in my daily life! Thank you for all you do 💞"
Becky F.
"Normally I'm too lazy to write reviews, but I have to make an exception for Rasa because it's SO GOOD. The Original is too earthy/mushroom-y for my tastebuds, but the Cacao and Dirty are delicious. Both are mild and slightly sweet. I was slightly skeptical that I could ever replace my beloved coffee, but if anything can do it, it's Rasa. It's got great flavor, and French press brewing helps maintain that "morning coffee ritual" experience."
Shea
"I love Rasa and I'm NEVER going back to coffee or caffeine! I'm calm cool and collected–My emotions are more in check. I'm sleeping WELL again. I cannot give this enough praise. Some days I mix the Cacao and Original together, some days I just have Original. I always rebrew and drink all day long. Rasa is a magical unicorn. 🦄"
Alison H.
"This actually turned me into an energy goddessI won't speak on my first week on Rasa. I have been drinking 4+ cups of coffee a day for years and quit cold-turkey; so my type A, all-or-nothing personality and I were straight up not having a good time.BUT. THEN. The clouds parted, a rainbow unfurled before me, and a unicorn trotted down and gently kissed me on the nose. Maybe it didn't happen exactly like that, but you guys! I took my three kids to the park yesterday, we played tag for an hour and THEY were tuckered out and ready to head home. Not me!I'm a realist, I don't think there's a magic pill (or beverage) that will suddenly make you happier/smarter/more beautiful or whatever, but I would be lying if I said Rasa hasn't changed my life. Things aren't suddenly perfect, but I feel SO MUCH more prepared and capable to face whatever the day throws at me."
Hannah